from 1 August 2007 Issue of Japanese Deaf News, JFD's monthly newspaper:
Disrupted Lifeline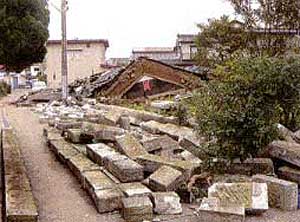 On July 16, 2007, at about 10:13 in the morning, a strong earthquake originating off the Chuetsu coast hit Niigata Prefecture on the opposite side of Japan from Tokyo. Strong quakes over the Japanese scale of 6+ were recorded in Kariu Village in Kashiwazaki City, Niigata Prefecture and in Iizunacho in Nagano Prefecture. Damages were largest around Kashiwazaki City, where many houses throughout the city collapsed. After the earthquake, major lifelines supplying electricity, gas and water were cut off, and fax and emails were not working. No casualties of the Deaf were reported in Nagano Prefecture.
Buried Underneath the Furniture
Mr. and Mrs. Kimura experienced the earthquake while at home in Kashiwazaki City. Mitsu Kimura's legs were caught underneath the PC rack which fell on her, but narrowly escaped using her hands. Yoshifumi, her husband was totally buried under the large set of drawers and only his hands could be seen. Mitsu desperately asked for help from neighbors by using gestures and finally managed to get him out.