We are really sorry but this dictionary is out of stock. We have no plans for the reselling of this product. Sorry to cause you inconvenience.
Although most of our Federation's publications are in Japanese, we do publish an English book on Japanese Sign Language:
An English Dictionary of Basic Japanese Signs
Edited by the Japanese Federation of the Deaf, Institute for Sign Language Studies
Published by the Japanese Federation of the Deaf, Tokyo Japan, 1988.
ISBN 4-915675-40-8
A5 Size, 320 pages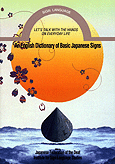 If you would like to purchase this book, please contact us in advance along with the details of the number of volumes and the destination (including the country name) you would prefer to deliver books to. By return, we will let you know the purchase fee you shall pay. The purchase fee includes the price of books, shipping expenses, handling cost, and bank transfer withdrawal charges at our bank. For your reference, it may cost around US60$-US$70 per one book to ship internationally.
You are requested to pay for it in US dollars by bank transfer. We do not accept orders by credit card or checks. A charge for the sender at your bank, if any, will be your responsibility and is not included in the purchase fee that will be given by us. Once we could confirm your payment is completed, we will send the book to the destination by means of EMS (Express Mail Service).