from 15 February 2007 Issue of Japanese Deaf News, JFD's monthly newspaper: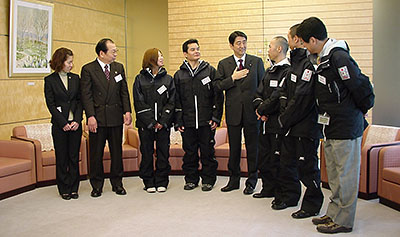 Prime Minister Abe signing to the Japanese athletes
The 16th Winter Deaflympics was held in Salt Lake City, Utah, U.S.A. from February 1 to 10, 2007, hosted by the International Committee of Sports for the Deaf (ICSD). A total of 314 athletes from 24 countries competed in Alpine Skiing, Snowboarding, Cross Country Skiing, Ice Hockey, and Curling.
Japan sent a delegation of 39 people, including coaches, staff, etc. The 17 athletes from Japan competed in 11 different categories of 3 competitions: Alpine Skiing, Snowboarding, and Cross Country Skiing. The athletes have been practicing hard for the Deaflympics in special training camps.
Encouragement from Princess Kiko and Prime Minister Abe in Sign Language
On January 15, representatives of the Japanese Delegation to the Deaflympics visited the residence of the Prince and Princess Akishinomiya. They received a warm welcome from the royal couple. Princess Kiko gave her message of encouragement in sign language.
On January 24, representatives of the delegation visited Prime Minister Abe of Japan. The Prime Minister has a website in which he has a section called "Comments from the Readers". The Secretariat of the Japanese Delegation sent in a comment saying that they would like the public to know more about the Deaflympics. The Prime Minister answered this request by inviting the Deaflympic athletes and the media to his office. After handshakes, Prime Minister Abe welcomed his guests in sign language, saying: "Hello everyone! I am Prime Minister Abe. I am very happy to have you here today." He also encouraged the athletes by saying: "Do your best and aim for the medal!