from 1 May 2006 Issue of Japanese Deaf News, JFD's monthly newspaper:
New Students Begin Freshman Year With High Hopes and Dreams
First Enrollment Ceremony since Its Start as a 4-Year University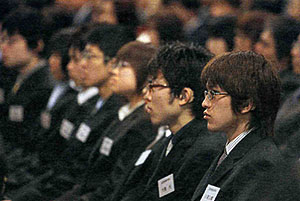 Newly enrolled freshmen listen attentively to the speeches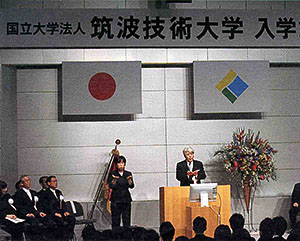 President Ohnuma giving his speech to the students
The Tsukuba University of Technology (NTUT), the first educational institution in the world providing higher education to students with visual and hearing disabilities, held its first Enrollment Ceremony to welcome new freshman-year students since its rebirth as a 4-year university. (Report and photos by Akitoshi Mochida)
On April 7, 2006, the National University Corporation, Tsukuba University of Technology held its Enrollment (Matriculation) Ceremony at the Tsukuba International Conference Center. The Faculty of Industrial Technology, where the Deaf students study, is divided into 2 departments: the Department of Industrial Information (accepting 35 freshmen this year) and the Department of Synthetic Design (accepting 15 new students).
The University's education is aimed to provide specialized technology to enable students with visual and hearing impairments to lead independent and self-supportive lives and to become leaders who contribute to society.
Speech from the President – "Become Contributing Members of Society"
Information support at the Enrollment Ceremony was provided in the form of sign language interpretation and computer-aided note-taking. Most graduates of Deaf high schools relied on the sign language interpreters while those from integrated educational settings seemed to rely more on the notetakers.
President Ohnuma presented his speech in sign language and welcomed the first students to enter since the rebirth of the institution as a four-year university. "This University exists for your sake, so that you will be able to able to go out into society as independent and self-supportive citizens who can make large social contributions. Japanese society judged that you have the power and ability to become such citizens and decided to accept you as students to our University. The budget from the national bursary to be spent on each of you is far higher than that of other university students. As you have been selected to enter that only national university in Japan which provides higher education to students with visual and hearing disabilities please do you best!"