from 1 April 2006 Issue of Japanese Deaf News, JFD's monthly newspaper:
"Nanafuku-en" Opened in April in Saitama
"Awaji Fukuro no Sato" Opened in Hyogo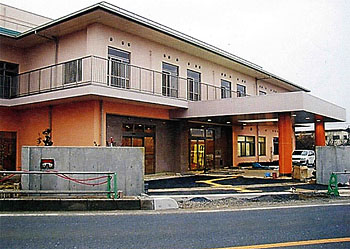 Nanafuku-en (Moroyama City, Saitama Prefecture)
On April 1, two new nursing homes for the aged persons with hearing and speaking disabilities were opened in Saitama and Hyogo Prefectures. Both provide private bedrooms to all residents and are divided into blocks for living together in small group units. The facilities were realized as a result of persevering fund-raising efforts by the Deaf and hearing supporters.
Private Bedrooms and Group Units
The nursing home for the aged called "Nanafuku-en" is located in Moroyama City in Saitama Prefecture. It is a 2-storied building with a total floor space of about 3150 m2 built on a 5600m2 plot of land.
It is managed by the Social Welfare Corporation, Saitama Welfare Association of the Deaf. As the project could not receive the national treasury grants-in-aid, the plan was changed to a prefectural level project. Even with cuts in cost, there was still a deficit in funds and the Deaf and hearing supporters conducted fund-raising activities.
The facility has a capacity to house up to 68 residents. Being the first such nursing home for the Deaf to be built in the Kanto (East Japan) area, Nanafuku-en receives application from other prefectures, including Deaf people in Tokyo. As of March 1, the facility has already received 50 applications. Nanafuku-en will also accept short-stay residents (maximum 5 people at a time), and provide day-time care services (maximum 30 people per day).
Nanafuku-en has video monitors installed in various parts of the building. These monitors provide text information to alert a staff that he/she is being called somewhere, or to provide information to the Deaf residents in case of emergencies, etc. There is a video camera and monitor in each elevator to enable users to communicate in sign language with the office staff.
Comment by Director Keiko Iwata:
"I am really happy that the dream we had been working toward for so long has finally been realized. We do have concerns such as the revision of the Nursing Care Insurance System, but we will overcome obstacles and aim at creating an environment in which all the residents will feel glad they came here."
"Creating a Bright and Hopeful Living Environment"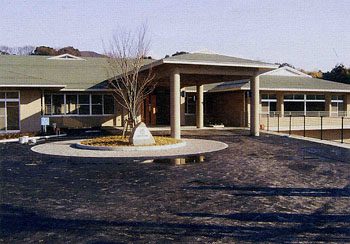 Awaji Fukuro no Sato (Sumoto City, Hyogo Prefecture)
A nursing home for the aged Deaf called "Awaji Fukuro no Sato" will be opened in Sumoto-City, Hyogo Prefecture, too. Management of this facility will be consigned to the Hyogo Welfare Association for the Deaf.
The 2-storied building has a total floor space of about 4000m2 built on a ground space of 10,000m2. The facility includes a working room, a corner for serving tea or coffee, a room for volunteer helpers with beds, etc. Each private bedroom is equipped with a TV monitor for displaying information sent out from the administration office. The rooms also have a flash lamp to indicate someone at the door, and a decoder for viewing TV programs with closed captions.
The facility can accommodate up to a maximum of 60 residents. As of March 1, applications have been received from 23 persons. The facility will accept short-term residents (maximum 10 people). A total of 54 employees will be working in the facility.
Comment by Director Susumu Oya:
"I studied the expectations and desires that led to the construction of Awaji Fukuro no Sato over and over again so as to be able to realize a living environment which will lead to new hopes and desires. All the employees will cooperate with the residents to realize such a facility."