from April 2004 Issue of Japanese Deaf News, JFD's monthly newspaper: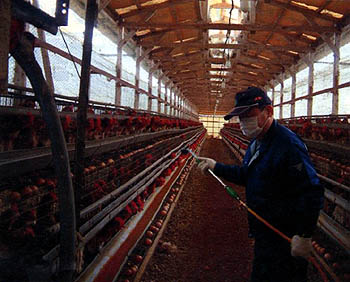 Mr. Iwabayashi sterilizing his chicken house
Ever since a poultry farm in Tamba, Kyoto was infected by the bird flu in February, business has been difficult for surrounding poultry breeders, including Mr. Kazuo Iwabayashi (age 54), a Deaf poultry breeder operating a small business in this area.
On Feb. 28th, the government decided to prohibit the shipment of eggs or poultry meat from all farms located within 30km from the infected poultry meat processing company. Mr. Iwabayashi's farm was located within this area. On March 2nd, the restricted area was reduced to farms within 5km from the infected company, and Mr. Iwabayashi was able to resume shipment of his products. However, during the 4-day ban, a total of 20,000 eggs were withheld from shipment.
Moreover, Mr. Iwabayashi had ordered 3,000 broiler chicken to arrive on March 1, but had to postpone the receipt of the chicken until March 5. As cost of labor, food for the chicken, and other expenses incurred by the 4-day postponement, Mr. Iwabayashi was charged 5 Yen per chicken per day. There is no system to compensate this payment.
Moreover, as the bird flu kept spreading, Mr. Iwabayashi has been constantly threatened by the fear of infection. He has been examining all his chicken every day, and sterilizing all his vehicles, cargo containers, poultry and poultry houses. He has had to pay for this cost as well.
Mr. Iwabayashi noted: "If we want breeders and farmers to report any abnormalities as soon as they are found, we need to improve the compensation system for any loss incurred." He also stressed with anger that "the government should not rely on imports but should make Japan more self-supporting. To do so, there should be a system whereby farmers and breeders can do business without anxiety."