from 15 February 2007 Issue of Japanese Deaf News, JFD's monthly newspaper: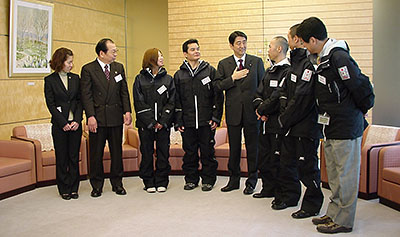 Prime Minister Abe signing to the Japanese athletes
The 16th Winter Deaflympics was held in Salt Lake City, Utah, U.S.A. from February 1 to 10, 2007, hosted by the International Committee of Sports for the Deaf (ICSD). A total of 314 athletes from 24 countries competed in Alpine Skiing, Snowboarding, Cross Country Skiing, Ice Hockey, and Curling.
Japan sent a delegation of 39 people, including coaches, staff, etc. The 17 athletes from Japan competed in 11 different categories of 3 competitions: Alpine Skiing, Snowboarding, and Cross Country Skiing. The athletes have been practicing hard for the Deaflympics in special training camps.