from May 2003 Issue of Japanese Deaf News, JFD's monthly newspaper:
In the Community… In A Well-equipped Facility with Trained Personnel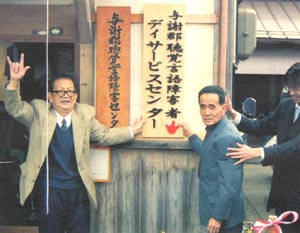 Deaf friends express joy over the opening
of the new Day Service Center in Yosa
In spite of the fact that there is still an acute lack of social infrastructures to support the lives of persons with disabilities in Japan, our government started the new support aid system for persons with disabilities in April, 2003.
It is extremely meaningful, therefore, that on April 1, the Kyoto Social Welfare Association for the Deaf and the Osaka Social Welfare Association for the Deaf newly opened the "Day Service Center for the Deaf" and the "Care Service Center for Persons with Disabilities" respectively, as social infrastructures to support the lives of the Deaf.
KYOTO: Health and Supportive Care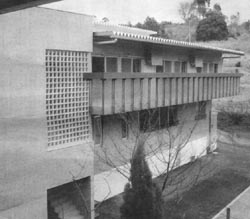 Newly established Care Service Center at
"Nakamano Sato" in Osaka
"As independent individuals, we want to live equally as other citizens of the neighborhood. We want to make our lives meaningful, and we want to become contributing members of society."
Based on such strong requests from the Deaf society, 2 day service centers for the Deaf were opened for the first time in Japan in Maizuru City and Yosa County, both in northern Kyoto.
The project is called the "Day Service Project for Physically Disabled Persons". The 2 newly built day care centers are independent facilities offering health care support, cooking training, information service, consultations and advice, communication support, creative activities (wood craft, sewing, gardening, knitting, calligraphy, etc.), as well as pick-up services. (The Yosa Center also offers lunch service.)
Yosa Center: Staff members are stationed every Monday through Thursday. Services are offered from 10:00 a.m. to 3:00 p.m. on Tuesdays and Thursdays. (Maximum capacity = 15 users, staff = 8 members)
Maizuru Center: Services are available from Monday through Friday from 10:00 a.m. to 3:00 p.m. (Maximum capacity = 15 users, staff = 5 members).
Similar day service facilities are now being planned in other parts of northern Kyoto.
OSAKA: "Nakamano Sato" In Its 10th Year
Care Service Center Added to Former Facilities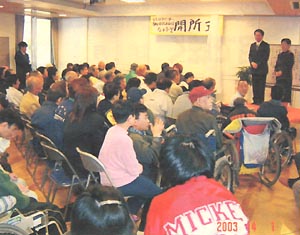 Opening ceremony of the new facilities at Nakamano Sato
"Nakamano Sato", a work center for persons with severe disabilities, is now in its 10th year since establishment. In order to answer the needs of persons with severe disabilities, combined disabilities, and the aging disability population, as well as to give specialized support to Deaf persons with combined disabilities, a new Care Service Center has been added to the existing work center to make Nakamano Sato a compound facility.
The maximum capacity of the existing work center has been decreased from 50 users to 30, and a new Care Service Center has been newly added. 12 beds were added to the former 18 beds, so that the new Care Service Center can accommodate up to 30 users. All the users will have private rooms equipped with a kitchenette. The new facility had many obstacles to be cleared, but most have been solved. The new Center will have a special bath tub which wheelchair users can go into on the wheelchair, commercial-use washing machine and dryer for handling the large amount of laundry that is normal in such facilities, rehabilitation equipment, and a large hall which can accommodate up to 70 persons.
For persons needing constant and continuous personal and medical care, doctors and nurses will be included in the staff. The Care Service Center will aim to support the diversified disabilities, needs, and development of each individual user.